Welcome to Fit Physio
We are the leading Physiotherapy and Musculoskeletal clinic in Camden. Our goal is to help you achieve your goals as quickly as possible. Our Physiotherapists are highly qualified with several years experience of assessing, diagnosing an treating a range of musculoskeletal and orthopaedic conditions including sports injuries. We are patient focused and our aim is to help you get back to being pain free and doing the things that matter to you as quickly as possible. Our Physiotherapists will facilitate early and accurate diagnosis which then informs the treatment provided, enabling people to be pain free and stay in work or return to their chosen activity as soon as possible. We are recognised and registered with all major insurance Providers including BUPA, AXA PPP, AVIVA and PRU Health.
Larry Koyama
MSc MCSP
Larry qualified from the University of East Anglia, Norwich in 2009. He has since completed an MSc at King's college London. Prior to Physiotherapy he completed a degree in Applied sports science from the University of Salford. He combines his role in private practice with his role as an Extended Scope Practitioner in the NHS. Larry's research interest are around the role of physical activity in musculoskeletal conditions.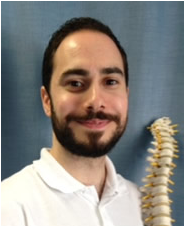 Sacha Mowla
MSc
Sacha gained his MSc from King's College London in 2014, where his research was focused on persistent pain and back pain In particular. He has held a number of senior posts both within the NHS and private practice. He maintains his research interest in pain is currently involved in research around persistent pain in adolescents.